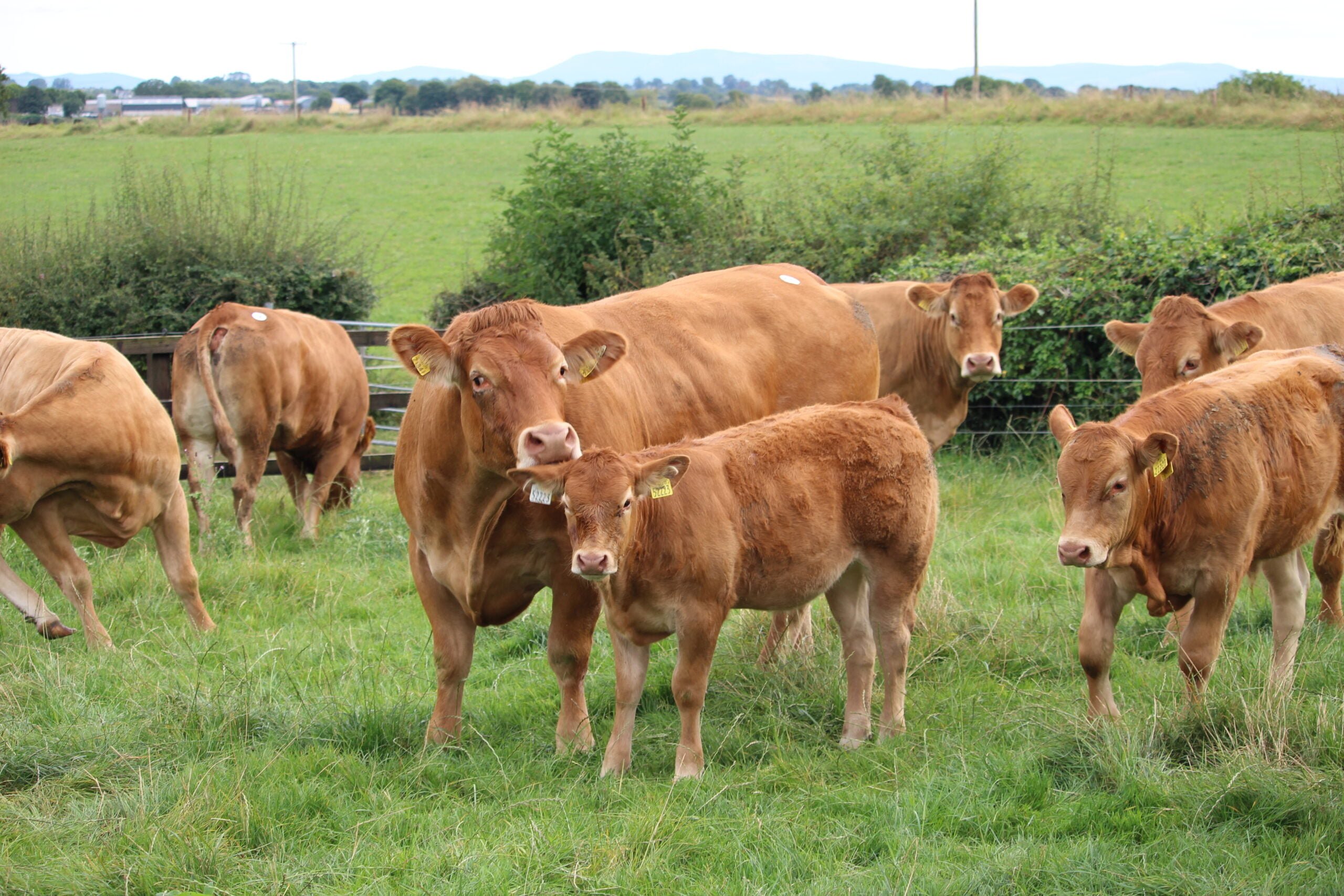 By Ann Curtin – PRO South West Limousin Club
The South West Limousin Club embarked on their second farm walk of 2022 on Saturday, August 27th. After travelling to Kerry earlier in the summer, it was a Limerick herd (although with a Kerry lady part owner) that was the destination this time.
The renowned Roundhill herd of Tim, Doreen and Katie Corridan based in Fedamore, Co. Limerick opened their doors to a large crowd. Established in 1993, the herd is the largest herd in the SW club and possibly the largest in the Irish herdbook with in excess of 200 pedigrees on hand.
On arrival, after refreshments, Doreen outlined the herd's breeding programme and the embarkment on a polled programme a number of years ago which has led to a herd consisting of in excess of 100 heterozygous polled females and 22 homozygous polled females. When the decision was made to used polled sires, those used included were Viking PP, Hinz PP, Greensons Howlett PP, Karlos PP, Idalgo PP and more recently JK Miro PP.
In the first paddock, we met JK Miro PP, the herd's current stock bull. Miro was bred in Luxembourg by Jean Kirsch, coming to Roundhill having first being imported to France. Miro is a 2016 born son of Leo Miro PP and the Merlin P daughter Nikita P. He boasts an array of five-star ratings including Replacement and Terminal Index. Tim and Doreen are looking forward to this autumn when the first daughters of Miro born in the herd are due to calf. Miro carries two copies of F94L – the profit gene.
In the next two paddocks were a group of outstanding cows with calves at foot. The first group of cows were predominately polled and the calves were sons and daughters of the herd's aforementioned stock bull – JK Miro PP. Cows in this group were by various sires including Ivoire PP, Hinz PP and Idalgo PP. Milk, fertility and docility has always been very evident in the Roundhill herd and – to this end – Miro's progeny are following suit, they are very consistent: long, correct, with power and style and with a large crowd gathered their exceptional temperament was very evident.
Doreen explained that the entire herd is genotyped at birth to ensure accuracy of parentage. Linear scoring is also undertaken annually and cattle are regularly weighed.
The next group consisted of the horned cows that will be offered for sale at the herds 9th Genetic advantage sale, which took placee in Roscrea Mart on Saturday, September 10th. Once again, the focus on breeding consistent cattle was very evident.
Roundhill has made the decision to part with their entire horned females. The cows on offer have been tremendous breeders at Roundhill, many are related to some of the top performing show cattle in Ireland and the UK.
As we returned to the farmyard, we saw the outstanding Elite Forever Brill ET daughter Roundhill I Unamine 1440 – this lady was Junior All-Ireland Heifer in 2014. An exceptional breeder – one of her daughters sold at the 2016 sale and was the National Limousin heifer champion in 2017 – she has in turn produced many champions. Another daughter Roundhill Puananime 1945 ET was National Junior cow champion at this year's National Show for Bobby O'Connell.
The Overall Limousin champion and Junior Interbreed champion, Charlottes Sapphire, at this year's Balmoral show is a daughter of Roundhill Kmelodie (sold at the 2016 sale). This heifer was sold at the British Limousin Societies 50th Anniversary show and sale for 16,000gns at 15 months old. Her full sister Ashmara Sheba sold in the Northern Ireland Limousin Club show and sale for 11,000 gns, having stood as Supreme Overall Reserve Champion.
The dam of Baileys Iceprincess, the World Congress champion 2016, is Roundhill Vjoyeuse 820 – sold at the 2006 sale.
In the yard, the team had the heifers that are catalogued for sale pinned and tied – a marvellous display of tremendous heifers. Four of the heifers were used for a stock judging competition – three discerning judges agreed with master judge Micheal Roche – these winners are: Ciaran McNamara, Pat Sheahan and Eoin Keane – well done.
When we had walked through the herd, we were treated to a wonderful barbeque of succulent Limousin burgers by John O'Connor ably assisted by Esther.
Acknowledgements
Many thanks to the Corridan family for hosting the South West club, thanks also to Jack, Rory, Orla, Shauna and George. Thank you to John and Esther and to our club officers Brendan, Pat and Micheal. A lovely relaxing day was had by all attendees – smashing cattle followed by lovely food in glorious sunshine – what better way to spend an August Saturday?!
9th Genetic Advantage sale report to follow.