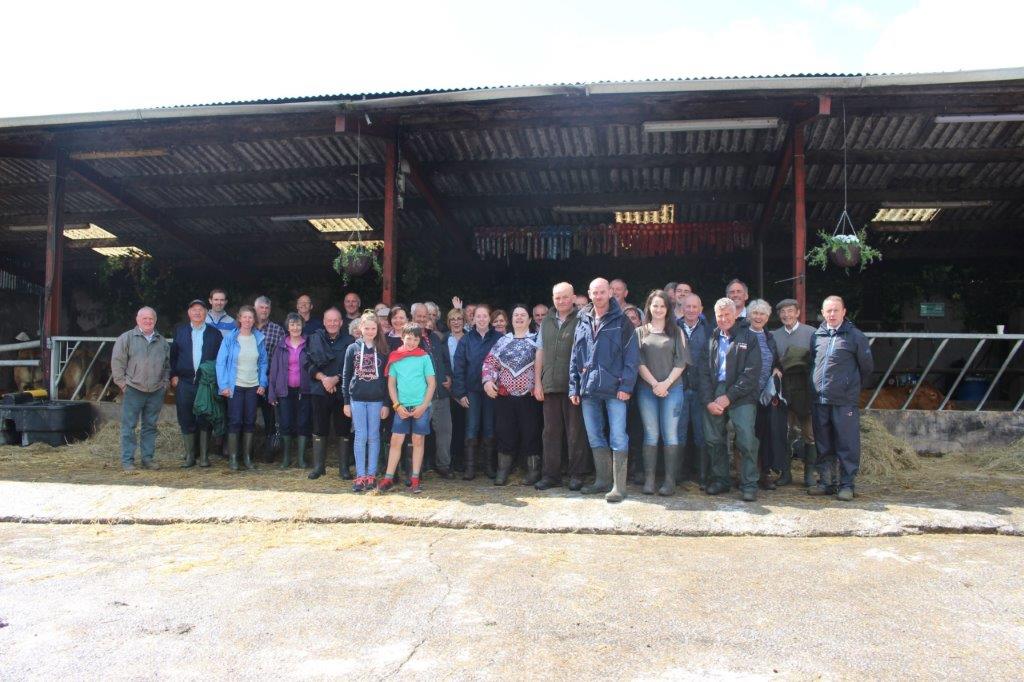 On Monday 13th August the Corridan family of Roundhill Limousin welcomed a travelling party from the North West Limousin Club in the UK to their farm in Fedamore, Co. Limerick. The group of 32 had attended the National Show in Tullamore on Sunday and were heading to Ardlea / Elite after their stop in Limerick. The group were treated to a guided tour of the entire herd (unfortunately cut short due to a very heavy downpour), on returning to the farmyard a number of groups of cattle were in the sheds – weanling heifers and bulls and Unanime and her family.  Doreen spoke of their commitment to data recording and herd health accreditation.
Roundhill is one of the largest herds of pedigree Limousins in the country, with the largest number of polled Limousins in Ireland. The Corridan family decided to undertake a polled programme on a large scale having studied polled genetics in the UK, France, Germany and the US. Some of the best horned breeding females were crossed with the homozygous polled sires available – Tigris PP, Hinz PP, Ivoire PP, Idalgo PP and Karlos PP. The herd now consists of 66 heterozygous polled females and 2 homozygous females, along with nine heterozygous males and four homozygous young males.
The herd is part of the ICBF data accreditation programme WHPR (Whole Herd Performance Recording) and the Gene Ireland Maternal programme. The herd is Johnes accredited level 1 with SAC since 2009. Every animal in the herd is genomically tested.
The herd, which was established in 1996, sourced cow families from the best available genetics in Europe. Influential females were purchased including:
Disette – the mother of Ideal 23;
Giroflee the mother of Nenuphar;
Melodie the mother of Ramses;
Belladone from the same family and Tonka and Leny (the dam of Roundhill Saturn);
Joyeuse the family of Baileys Ice Princess;
Unanime and Andrea.
Bulls are sold to a home market or at Society sales, at which they regularly feature in the rosettes and top prices. Biennial female sales are held with the Castleview herd of Sean O'Sullivan. The next sale will be held in 2020.
It gives the family great pleasure to see Roundhill bred animals perform well in the show / sales rings for their new owners. Doreen is a great promoter of the YMA and to this end the family regularly host YMA events for the South West Club on farm.
After everyone had dined on a pig-on-a-spit and delicious home-made ice cream, Adam Watson (Chairman of the North West Club) commented on the excellent stock present, he thanked the family for hosting the group and wished them continued success.
Tim is assisted on the farm by George Doyle, Doreen is a vet with Munster AI while Katie is entering her 5th year in Medicine.
Cows and calves at Roundhill Limousin
Young cattle and Unanime offspring at Roundhill Limousin
A happy group of visitors
NW UK visitors with the Corridan family at Roundhill Limousin