Tullamore Show & AIB National Livestock Show is the Premier Livestock Show in Ireland and attracts breeders of quality cattle and sheep from all over the country. The Irish Limousin Cattle Society returned to Tullamore for the 28th National show having held the show in conjunction with the International Limousin Congress in Kilkenny last year. This year 105 outstanding Limousin cattle competed in 18 classes. Judging started at 10am, with the large crowd of spectators, three deep, enthralled by the spectacle of fantastic cattle on display.
Judging responsibilities for this prestigious show was Ms. Kirree Kermode of the Orrisdale pedigree herd based in Ballasalla, Isle of Man. Kirree has shown and judged pedigree Livestock for a number of years. Speaking after judging Kirree commented
"A great line-up of  Limousin cattle were put forward here today. The standard in all classes was excellent. I would like to thank the exhibitors here in Tullamore and complement them on the fantastic display of cattle."
Society President Mr. Dan O'Mahony, commented before the show
"This show is a portrayal of the Limousin breed in Ireland today. The animals on show represent the different aspects of the breed and its ability to be the breed for all markets. The standard of these animals is a testament to the investment of our breeders in the top genetics available both nationally and internationally. Last year we hosted the International Limousin Congress and the large attendance of international delegates continually commented throughout the week on the tremendous quality of Irish Limousin cattle both pedigree and commercial. In conclusion thank you to both our breeders and you the audience for attending our show, I hope you enjoy your day."
Supreme Champion Limousin 2017 – Meelickaduff Honda ET
Supreme Limousin Champion 2017 is Meelickaduff Honda ET exhibited by Owen Hester, Castlerea, Co. Roscommon. Honda is a daughter of Wilodge Vantastic and the noted french donor dam Etole (who has bred numerous champions for the Ardnacrusha herd of Donal Moloney). No stranger to the show ring, Honda holds the RDS Champion of Champions title for 2016. Born in December 2012, she has enjoyed a very sucessfully showing career since the summer of 2013. For the last two years she has competed in the Senior cow classes, last year with her  2016 born son Meelickaduff Lamborghini, while this year she has her 2017 born son Meelickaduff Massey at foot.
Reserve Supreme Limousin Champion 2017 – Meenross Leader
Reserve Supreme Limousin Champion 2017 was awarded to Meenross Leader,  an October 2016 born son of Ampertaine Elgin. Leader was bred in Scariff, Co. Clare by James O'Grady. Leader's dam Castleview Felicity, has Wilodge Vantastic and Malibu in her back pedigree. This powerful young bull beat stiff competition to take the National All Ireland Limousin bull born on/between 1/9/16 and 31/10/16 class, subsequently he took the Junior Male Champion and the Overall Male Champion.
Reserve Overall Male Champion 2017 – Drummin Lente ET
Standing as Reserve Overall Male Champion 2017 was Drummin Lente ET, an Ampertaine Elgin son bred by John McInerney, Newmarket-On-Fergus, Co. Clare. Lente's dam is the hugely successful Drummin Cliona ET, a home-bred donor cow that has bred many champions and sale toppers including Drummin J-Lo Et, the sale topper at €16,200 at last years International Limousin Congress Elite Sale. Born in March 2016, Lente was awarded first prize in the National Limousin Bull born on/between 1/1/16 and 30/4/16 class, followed by the Senior Male title.
Reserve Overall Female Champion 2017 – Roundhill Langel 1700 ET
Reserve Overall Female Champion 2017 is Roundhill Langel 1700 ET bred by Tim and Doreen Corridan, Fedamore, Co. Limerick. Langel is a daughter of Netherhall Jackpot and Netherhall Galaxy. Born in September 2016, Langel has amassed a number of first prizes in this her inaugural show season. She took the red rosette in the National All Ireland Limousin Heifer born on/between 1/9/16 and 31/10/16 class, followed by the Junior Female Championship.
Commenting at the Show ILCS Secretary Paul Sykes said:
"What a tremendous line-up of top quality Limousin Cattle here today, I must express the society's gratitude to the exhibitors at this our National Show and indeed at shows throughout the country. Thanks to our judge Kirree, the stewards, the council members, the staff in the hospitality marquee and to the spectators."

Shows can't be run without sponsorship and I would like to thank our superb sponsors, without their assistance this National show would not be the success it is today.
National Limousin Bull Born on/between 1/5/15 and 31/12/15
| | | | | |
| --- | --- | --- | --- | --- |
| Placing | Exhibit | Exhibitor | Sire | Dam |
| 1st | Drummin Kodaline ET | John McInerney | Wilodge Vantastic | Drummin Cliona ET |
| 2nd | Brookmill Klunk | Martin Davis | Loosebeare Fantastic | Millbrook Eya |
Sponsored by: Lambe's Oil, Tullamore
Genetic Merit Award winner: Brookmill Klunk
Drummin Kodaline ET
National Limousin Bull Born on/between 1/1/16 and 30/4/16
| | | | | |
| --- | --- | --- | --- | --- |
| Placing | Exhibit | Exhibitor | Sire | Dam |
| 1st | Drummin Lente ET | John McInerney | Ampertaine Elgin | Drummin Cliona ET |
| 2nd | Ballinrahin Leonardo ET | Michael Malone | Ampertaine Foreman | Ampertaine Harmony |
Sponsored by: Fingleton, Peters & Tyrell
Genetic Merit Award winner: Ballinrahin Leonardo ET
Drummin Lente ET
National Limousin Bull Born on/between 1/5/16 and 31/8/16
| | | | | |
| --- | --- | --- | --- | --- |
| Placing | Exhibit | Exhibitor | Sire | Dam |
| 1st | Ardlea Lampert | Dan Tynan | Aultside Hulk | Elite Irma ET |
Sponsored by: Zurich Insurance
Genetic Merit Award winner: Ardlea Lampert
Ardlea Lampert 
National All Ireland Limousin Bull Born on/between 1/9/16 and 31/10/16
| | | | | |
| --- | --- | --- | --- | --- |
| Placing | Exhibit | Exhibitor | Sire | Dam |
| 1st | Meenross Leader | James O'Grady | Ampertaine Elgin | Castleview Felicity |
| 2nd | Mount Scott Lifeboy | Michael Sexton | Ampertaine Gigolo | Moohane Janet |
| 3rd | Millbrook Leader ET | William Smith | Ampertaine Foreman | Millbrook Ginger Spice |
| 4th | Meenross Lord | James O'Grady | Emerson | Lislara Estelle |
| 5th | Ardnacrusha Lord of the Rings | Donal Moloney | Wilodge Vantastic | Etole |
Sponsored by: FRS Fencing, Roscrea, Co. Tipperary
Genetic Merit Award winner: Meenross Leader
Meenross Leader
National All Ireland Limousin Bull Born on/between 1/11/16 and 31/12/16
| | | | | |
| --- | --- | --- | --- | --- |
| Placing | Exhibit | Exhibitor | Sire | Dam |
| 1st | Clontown Loni | Kevin Treanor | Wilodge Cerberus | Robineed Jolene |
| 2nd | Lisfort Lord Alfy ET | Shannon Murphy | Fieldson Alfy | Kilcor Frostie |
| 3rd | Grangeford Lionheart | Gary Morrissey | Ampertaine Foreman | Grangeford Juniper ET |
| 4th | Kiltoal Luke ET | Pearse McNamee | Ampertaine Gigolo | Millgate Gem |
| 5th | Elite Lusafar ET | Dan Tynan | Ampertaine Foreman | Ardlea Gig |
Sponsored by: Clippers Ireland
Genetic Merit Award winner: Elite Lusafar ET
Clontown Loni
National All Ireland Limousin Bull Born in 2017
| | | | | |
| --- | --- | --- | --- | --- |
| Placing | Exhibit | Exhibitor | Sire | Dam |
| 1st | Corranhill Mandela | Ivor Anderson | Haltcliffe Dancer | Rockfort Fiona |
| 2nd | Elite Mad Max 2 ET | Dan Tynan | Craigatoke Jack | Elite I Light ET |
| 3rd | Clontown Mc Konkey | Kevin Treanor | Powerhouse Italic | Kincorragh Inde |
| 4th | Ovaun Merlin ET | Michael Gunn | Loosebeare Fantastic | Ovaun Barbara |
| 5th | Hurricane Mufasa | Darragh O'Meara | Henzo | Hurricane Isabelle ET |
Sponsored by: Central Auctions, Roscrea, Co. Tipperary
Genetic Merit Award winner: Ovaun Merlin ET
Corranhill Mandela
National Junior Limousin Male Champion
| | | | | |
| --- | --- | --- | --- | --- |
| Placing | Exhibit | Exhibitor | Sire | Dam |
| Champion | Meenross Leader | James O'Grady | Ampertaine Elgin | Castleview Felicity |
| Reserve Champion | Mount Scott Lifeboy | Michael Sexton | Ampertaine Gigolo | Moohane Janet |
Sponsored by: FBD Insurance
Overall Reserve Champion, Male Champion & Junior Male champion Meenross Leader
Reserve National Junior Male Champion – Mount Scott Lifeboy
National Senior Limousin Male Champion
| | | | | |
| --- | --- | --- | --- | --- |
| Placing | Exhibit | Exhibitor | Sire | Dam |
| Champion | Drummin Lente ET | John McInerney | Ampertaine Elgin | Drummin Cliona ET |
| Reserve Champion | Drummin Kodaline ET | John McInerney | Wilodge Vantastic | Drummin Cliona ET |
Sponsored by: Pedigree Cattle.ie
National Senior Male Champion and Reserve Overall Male Champion – Drummin Lente ET
Overall Male Champion 
| | | | | |
| --- | --- | --- | --- | --- |
| Placing | Exhibit | Exhibitor | Sire | Dam |
| Champion | Meenross Leader | James O'Grady | Ampertaine Elgin | Castleview Felicity |
| Reserve Champion | Drummin Lente ET | John McInerney | Ampertaine Elgin | Drummin Cliona ET |
Sponsored by: E.V. Condell Ltd
Female Classes
National Limousin Senior Cow In Calf  or In Milk. Born on/before 1/1/14
| | | | | |
| --- | --- | --- | --- | --- |
| Placing | Exhibit | Exhibitor | Sire | Dam |
| 1st | Meelickaduff Honda ET | Owen Hester | Wilodge Vantastic | Etole |
| 2nd | Grangeford Imogen ET | Gary Morrissey | Wilodge Cerberus | Procters Enya |
| 3rd | Roundhill Iondine 1496 | Bobby O'Connell | Elite Forever Brill ET | Roundhill Dondine 1074 ET |
| 4th | Killcastle Izzy Monique ET | A. & P. Kelly | Wilodge Vantastic | Killcastle Dana Monique ET |
Sponsored by: NCBC
Genetic Merit Award winner: Grangeford Imogen ET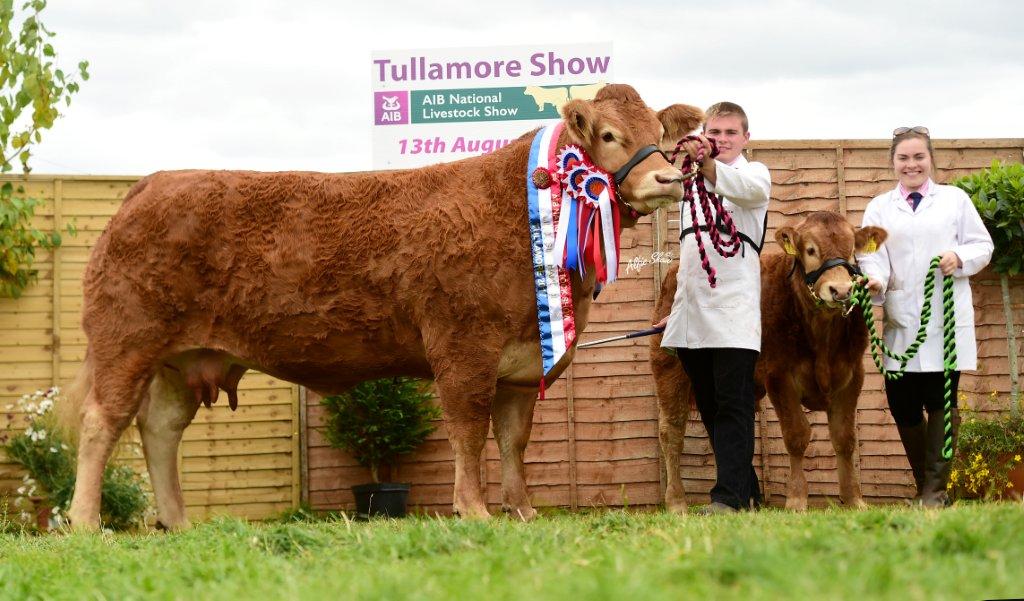 Meelickaduff Honda ET – Supreme Champion 2017
National Limousin Junior Cow In Calf  or In Milk. Born on/after 1/1/14
| | | | | |
| --- | --- | --- | --- | --- |
| Placing | Exhibit | Exhibitor | Sire | Dam |
| 1st | Ardlea Jolene 2 | Dan Tynan | Emerson | Ardlea Erenn |
Sponsored by: FBD Insurance
Genetic Merit Award winner: Ardlea Jolene 2
National Junior Cow 2017 – Ardlea Jolene 2
National Limousin Heifer born on/between 1/1/15 and 30/6/16
| | | | | |
| --- | --- | --- | --- | --- |
| Placing | Exhibit | Exhibitor | Sire | Dam |
| 1st | Templequain Krystal | Brendan O'Shea | Wilodge Cerberus | Ardlea Christable |
Sponsored by: Connolly Redmills
Genetic Merit Award winner: Templequain Krystal
Templequain Krystal 
National Limousin Heifer born on/between 1/7/15 and 31/12/15
| | | | | |
| --- | --- | --- | --- | --- |
| Placing | Exhibit | Exhibitor | Sire | Dam |
| 1st | Elite Kir ET | Dan Tynan | Ampertaine Elgin | Clonmack Fleur |
| 2nd | Elite Kohana ET | Dan Tynan | Brutas Hashtag | EliteForever 1 ET |
| 3rd | Ardnacrusha Kylie ET | Donal Moloney | Sympa | Ardnacrusha Hilarious ET |
| 4th | Elite Kiah ET | Gareth McGuinness | Aultside Hulk | Carwin Hillary |
| 5th | Elite Kimberly ET | Dan Tynan | Ampertaine Elgin | Carwin Hillary |
Sponsored by: FBD Insurance
Genetic Merit Award winner: Ardnacrusha Kylie ET
Elite Kir ET
National Limousin Heifer born on/between 1/1/16 and 31/3/16
| | | | | |
| --- | --- | --- | --- | --- |
| Placing | Exhibit | Exhibitor | Sire | Dam |
| 1st | Roundhill Lunanime 1656 | Bobby O'Connell | Elite Ice Cream ET | I Unamine 1440 |
| 2nd | Clontown Lucy | Kevin Treanor | Ampertaine Foreman | Millgate Impulsive |
Sponsored by: Bova Genetics
Genetic Merit Award winner: Clontown Lucy
Roundhill Lunanime 1656
National Limousin Heifer born on/between 1/4/16 and 31/8/16
| | | | | |
| --- | --- | --- | --- | --- |
| Placing | Exhibit | Exhibitor | Sire | Dam |
| 1st | Annaghanne Lopez | Declan McCaffrey | Ampertaine Foreman | Whitehall Emerald |
| 2nd | Killcastle Lou Gina ET | A. & P. Kelly | Ampertaine Commander | Killcastle Gina Monique 1 ET |
| 3rd | Lisnacrann Lady Naomi | Michael Oliver | Powerhouse Italic | Tullinacurra Darling Naomi |
| 4th | Magheraboy Les Hana | James Coffey | Mullary Intrepid | Magheraboy Belle |
| 5th | Magheraboy Lara | James Coffey | Usse | Magheraboy Freda |
Sponsored by: Dovea Genetic
Genetic Merit Award winner: Annaghanne Lopez
Annaghanne Lopez
National All Ireland Limousin Heifer born on/between 1/9/16 and 31/10/16
| | | | | |
| --- | --- | --- | --- | --- |
| Placing | Exhibit | Exhibitor | Sire | Dam |
| 1st | Roundhill Langel 1700 ET | Tim Corridan | Netherhall Jackpot | Netherhall Galaxy |
| 2nd | Elite Lizzie ET | Dan Tynan | Craigatoke Jack | Elite Jacob ET |
| 3rd | Brickhill Lana ET | Michael McInerney | Ampertaine Gigolo | Brickhill Jade ET |
| 4th | Templequain Leiona ET | Brendan O'Shea | Amperatine Gigolo | Drummin Genevieve ET |
| 5th | Clew Bay Leisa | Padraic Golden | Ampertaine Foreman | Clew Bay Gerildane |
Sponsored by: Arrabawn Co-op & Greenvale Animal Feeds
Genetic Merit Award winner: Clew Bay Laoise
Roundhill Langel 1700 ET
National All Ireland Limousin Heifer born on/between 1/11/16 and 31/12/16
| | | | | |
| --- | --- | --- | --- | --- |
| Placing | Exhibit | Exhibitor | Sire | Dam |
| 1st | Grangeford Lady ET | Gary Morrissey | Ampertaine Elgin | Goldies Flojo |
| 2nd | Knockcoolkeare Lady Nadia B | Micheal Roche | Gamin | Wood Road Fate ET |
| 3rd | Milan Lindie ET | Donie McKeon | Ampertaine Foreman | Milan Amelie |
| 4th | Killcastle Laxi Monique ET | A. & P. Kelly | Amperatine Commander | Killcastle Gina Monique 1 ET |
| 5th | Lackamore Lulu ET | Enda O'Gorman | Ampertaine Gigolo | Coolready Iron Lady ET |
Sponsored by: Transembryo, Ballinasloe, Co. Galway
Genetic Merit Award winner: Mount Scott Lotto
Grangeford Lady ET
National All Ireland Limousin Heifer born in 2017
| | | | | |
| --- | --- | --- | --- | --- |
| Placing | Exhibit | Exhibitor | Sire | Dam |
| 1st | Carrowclogher Madonna | Jack Vahey | Plumtree Fantastic | Glebe Park Ita |
| 2nd | Knockcoolkeare Mistic | Micheal Roche | Glorieux | Castleview Gail |
| 3rd | Ballybrown Masie | Bobby O'Connell | Achile | Roundhill Iondine 1496 |
| 4th | Grangeford Madonna | Gary Morrissey | Grangeford Jojo ET | Grangeford Imogen ET |
| 5th | Rhyne Mercede | Mark Hagan | Powerhouse Italic | Clonadrum Urselle ET |
Sponsored by: Irish Examiner
Genetic Merit Award winner: Grangeford Madonna
Carrowclogher Madonna
National Junior Limousin Female Champion
| | | | | |
| --- | --- | --- | --- | --- |
| Placing | Exhibit | Exhibitor | Sire | Dam |
| Champion | Roundhill Langel 1700 ET | Tim Corridan | Netherhall Jackpot | Netherhall Galaxy |
| Reserve Champion | Elite Lizzie ET | Dan Tynan | Craigatoke Jack | Elite Jacob ET |
Sponsored by: Buckley's Supervalu Birr
Reserve Overall Female, National Junior Champion – Roundhill Langel 1700 ET
Reserve National Junior Champion – Elite Lizzie ET
National Senior Limousin Female Champion
| | | | | |
| --- | --- | --- | --- | --- |
| Placing | Exhibit | Exhibitor | Sire | Dam |
| Champion | Meelickaduff Honda ET | Owen Hester | Wildoge Vantastic | Etole |
| Reserve Champion | Templequain Krystal | Brendan O'Shea | Wilodge Cerberus | Ardlea Christable |
Sponsored by: Kubota UK
Supreme Champion, Overall Female Champion, National Senior Cow- Meelickaduff Honda ET
Reserve Senior Heifer & National Heifer born on/between 01/01/15 & 30/06/16 – Templequain Krystal
Overall Female Champion 
| | | | | |
| --- | --- | --- | --- | --- |
| Placing | Exhibit | Exhibitor | Sire | Dam |
| Champion | Meelickaduff Honda ET | Owen Hester | Wildoge Vantastic | Etole |
| Reserve Champion | Roundhill Langel 1700 ET | Tim Corridan | Netherhall Jackpot | Netherhall Galaxy |
Sponsored by: Irish Examiner
Meelickaduff Honda ET – Supreme Overall Champion 2017
Reserve Overall Female & Junior Female Champion – Roundhill Langel 1700 ET 
National All Ireland Pair of Limousin
| | | | |
| --- | --- | --- | --- |
| Placing | Animal 1 | Animal 2 | Exhibitor |
| 1st | Clew Bay Laoise | Clew Bay Leisa | Padraic Golden |
| 2nd | Elite Kiah ET | Limestone Kahlua | Gareth McGuinness |
| 3rd | Clontown Millie | Clontown Mc Konkey | Kevin Treanor |
| 4th | Ardnacrush Kylie | Ardnacrusha Kit Kat | Donal Moloney |
| 5th | Meenross Lord | Meenross Leader | James O'Grady |
Sponsored by: Caulfield Industrial, Athlone, Co. Westmeath