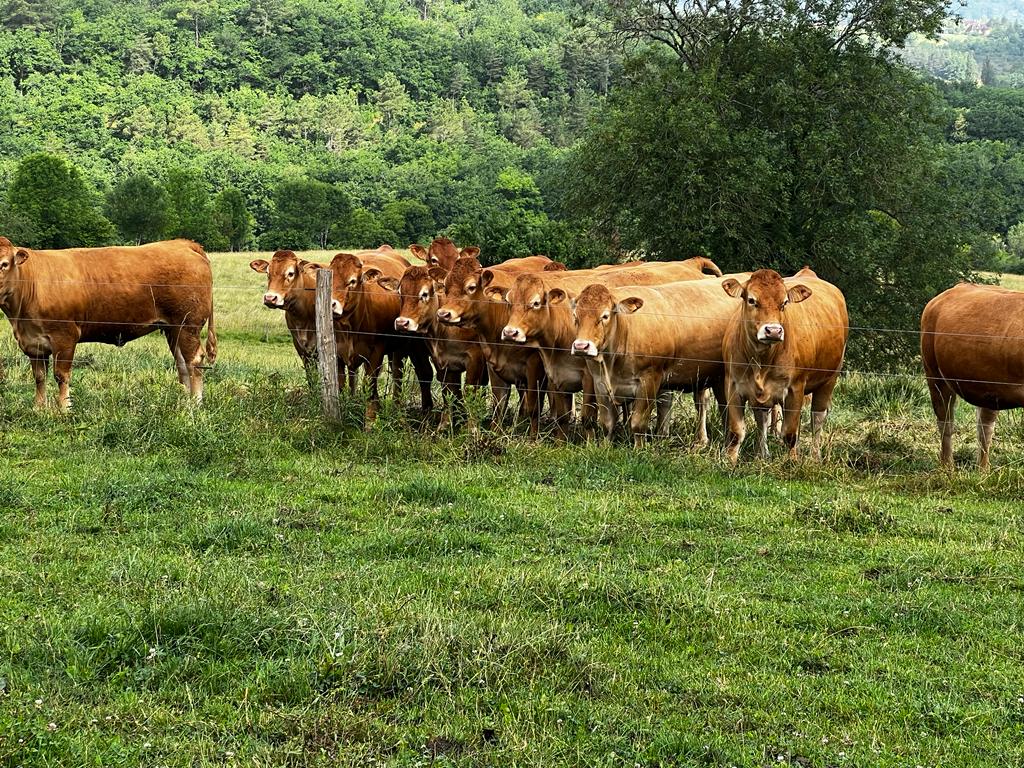 In June 2022, Irish Limousin Cattle Society (ILCS) CEO, Ronan Murphy, and vice-president, Philip Crowe, visited several Limousin farms in the French region of Limoges – the home of the Limousin breed. The intention of the visit was to view progeny from sires that are currently in use in Ireland, while also assessing the progeny of new bulls which could be of interest to Irish breeders in the future.
Over the two-day trip, three farms were visited: an agricultural college in Lycee – home to 75 pedigree Limousin cows; Gaec de Masson – a family run operation; and Gaec de Cancerles – run by the Thuery family.
Beginning at the agricultural college, located between Bordeaux and Limoges, this farm stretched across 120ha – home to a 75-cow pedigree Limousin herd. It was once home to a sire that would be well known in Irish breeding circles – it was the birthplace of maternal sire, Cameos.
The system was simple; 25 replacement heifers are retained for breeding each year, while 10-12 pedigree bulls are sold for breeding. Bulls not making the grade for breeding are sold for export to Italy – a strong market for young Limousin bull weanlings.
Each year in France, a French Limousin Herd Selection Competition is held and, this year, the college finished in an impressive fourth position. In the competition, points are awarded for a number of traits, including the maternal index – or ivmat as its known in French – of the cows on the farm and the number of bulls in the herd put through the Lanaud Test Station.
Additionally, the success of the bulls on test – and if the farm breeds a bull that stands in an AI station – are all taken into consideration. The herd finished first in the competition in 2014 and this success was due to the semen sales of Cameos – who was the top-selling sire in AI for four consecutive years. The herd first started using the Crealim/Moussours bulls in 1984 and have used all AI since.
Stock from the college can be viewed in the gallery below:
The next stop was Gaec de Masson – a family-run enterprise. This father, son and daughter team farm 260ha consisting of 20ha of wheat and 40ha of maize – which is fed to cattle on the holding. However, 220 pedigree Limousin cows take center stage in the split-calving operation. Cows are calved both in the spring and in the autumn, with 65 replacements retained for breeding in a normal year.
A strict breeding policy is implemented; the family use Crealim maternally-tested bulls and, when selecting an AI bull, a number of factors are taken into consideration. These include milk, growth and docility, while maternal efficiency is considered the key to the farm's profitability.
In terms of sires used in the herd, these include: Belorient; Day; and Cameos, while younger sires used are: Jaurel; Jurancon; and Letiprince.
The gallery below contains photos from the Gaec de Masson herd:
Gaec de Cancerles was the final farm visited – ran by Daniel, Micheal Thuery and family. The farm spans across 81ha, where 200 pedigree Limousin cows are grazed in a grass-based system. The Thuery family use Crealim AI sires, while a stock bull is used to 'mop up' after the AI course is complete.
Calving commences in September and is completed by October. Similar to the other two farms, 60 replacement heifers are kept annually, while the remainder are sold to other breeders; a small number of heifers are finished and slaughtered each year.
In terms of the male progeny, 40 yearling bulls are selected for breeding – both by their physical appearance and by their genetic potential. Weanling bulls that do not make the grade for breeding are again sold for export to the Italian market at approximately 350kgs – making €1,250/head. Additionally, 50 cows are culled every year with an average carcass weight of 500kg at slaughter.
When the herd is selecting AI sires, maternal qualities are first and foremost, while calving ease is a very important trait. No sire with an index under 95 will be used on the cows. Both Daniel and Michael place a big emphasis on a balanced breeding programme – with bulls that have qualified on beef and maternal qualities accounting for 90% of AI sires used.
Again, this herd is no stranger to success; Gaec de Cancerles was awarded second place in the UPRA Challenge in 2021 – a competition run by the French Limousin Testing Federation. Moreover, they have a number of sires in French AI, including one of the most used sires in 2021 – Gimli. Other French AI sires that were bred on the farm include: Hamilcar; Thetis; Asteluego; and Givay, while another two young bulls are currently under going progeny testing in Moussours.
Sample of livestock on the farm:
The above farms are an excellent example of what Crealim maternally-proven bulls can offer Irish breeders. The dams are powerful, have an abundance of milk and have high maternal traits; they are also easily managed. When asked what the secret was, Daniel – from the Gaec de Cancerles herd –  replied:
"There is no secret or magic here, just 20 years of using the top-Crealim bulls that are matched with the correct cows. This has paid off for us; anyone can have the same results."