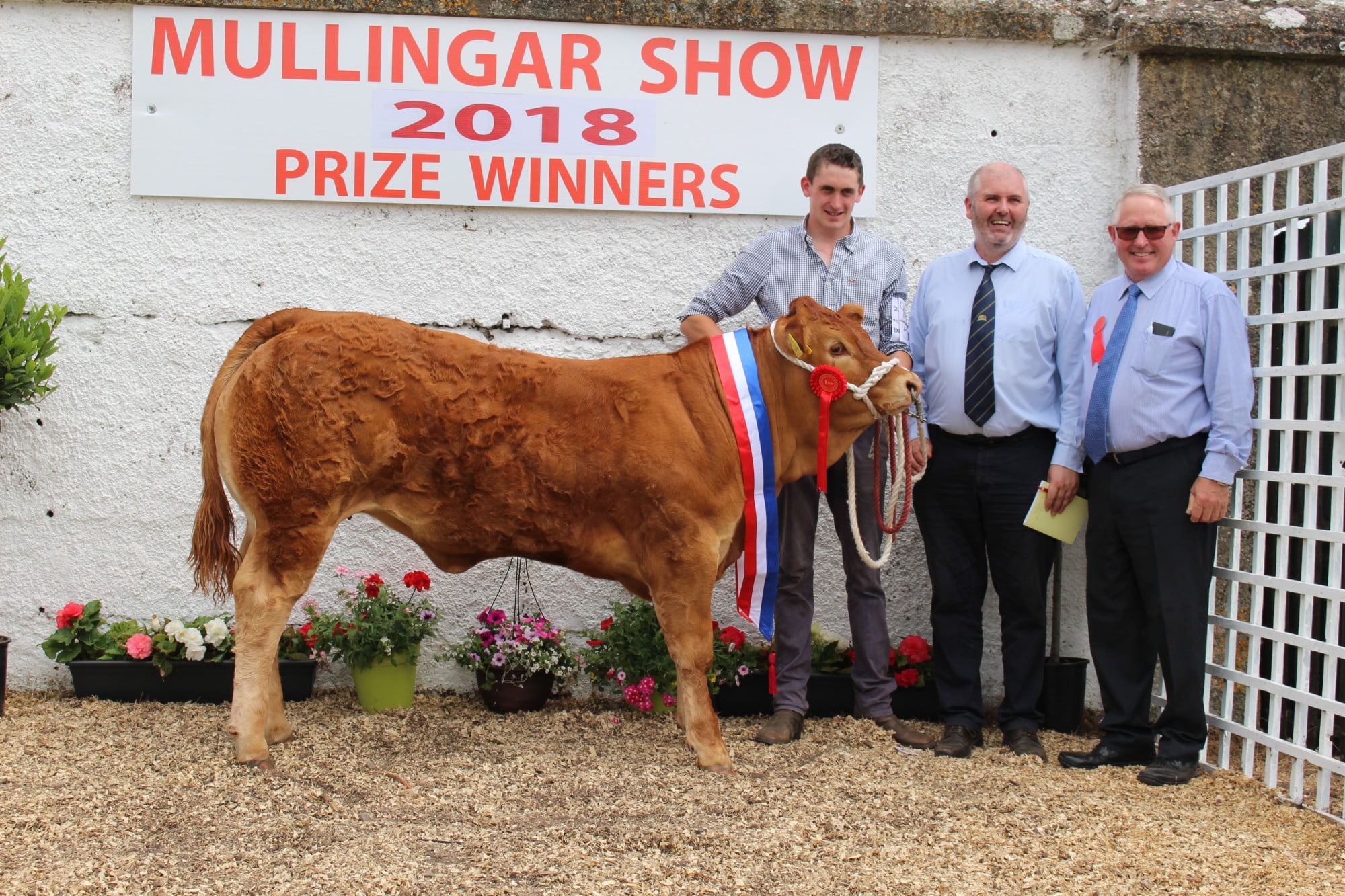 On Sunday 8th July 2018 Mullingar show took place in Culleen just outside Mullingar. The show is held in beautiful surroundings and with the continuation of the Mediterranean weather attendees were basked in glorious sunshine.
Chairman of the show is Joe Henson of the Cappahugh Limousin herd. Tasked with judging the Limousin classes was society President Mr. Michael Gunn of the Ovaun Limousin herd, Elphin, Co. Roscommon.
The show graciously hosted the National YMA finals and as such there were several North East club members on hand to lend assistance and to ensure everyone attending enjoyed their day. We would like to thank them most sincerely for their support. A special word of thanks to Philip Crowe, Paddy Clerkin, Peter McPhilips, Joe & Margaret Henson. Thanks also to Michael Gunn and the YMA judges James Callinon, Claire O'Brien and Basil Bothwell.
Champion Limousin was Gallaway Moneka Et, an October 2017 born daughter of Ballinloan Jaegerbomb and Gallaway Hazel (an Ampertaine Commander daughter). Moneka was presented by her breeder Michael Kiernan, Augharan, Co. Leitrim. Moneka topped off a great day out by also standing as Reserve Overall show Champion – a wonderful achievement for a nine month old calf.
Standing in Reserve was the Trueman Jagger son Cartronfree Mount Everest Et. Incidentally Mount Everest's dam Melbreak Fairylight was bred by YMA Master Judge Mr. James Callinon. Fairylight has Wilodge Vantastic and Geant in her sire stack. Born in September 2017 – Mount Everest was exhibited by Gerard and Martin Davis, Ballinalee, Co. Longford.
Limousin Classes Mullingar Show 2018
Class 92. Pedigree Limousin Heifer born between 1st Sept. 2016 to 31st August 2017.
| | | | | |
| --- | --- | --- | --- | --- |
| Placing | Animal Name | Sire | Dam | Exhibitor |
| 1st | Rhyne Mercede | Powerhouse Italic | Clonadrum Urselle Et | Mark Hagan |
| 2nd | Cush Mullary | Mullary Intrepid | Cush Grainne | A. & W. Gubbins |
| 3rd | Clonbonny | | | Kevin Treanor |
Sponsor: Midland Cladding & Steel Services Ltd., Kilbeggan, Co. Westmeath
Class 93. Pedigree Limousin Male calf born on or after 1st September 2017 & on or before 31st December 2017
| | | | | |
| --- | --- | --- | --- | --- |
| Placing | Animal Name | Sire | Dam | Exhibitor |
| 1st | Cartronfree Mount Everest Et | Trueman Jagger | Melbreak Fairylight | G. & M. Davis |
| 2nd | Lisfort Maradona Et | Ampertaine Gigolo | Ernevalley Imelia Et | Finbar Murphy |
| 3rd | Gallaway | | | Michael Kiernan |
Sponsor: James Geoghegan, Tyrellspass, Co. Westmeath
Class 94. Pedigree Limousin Female Calf born on or after 1st September 2017 & on or before 31st December 2017
| | | | | |
| --- | --- | --- | --- | --- |
| Placing | Animal Name | Sire | Dam | Exhibitor |
| 1st | Gallaway Moneka Et | Ballinloan Jaggerbomb | Gallaway Hazel | Michael Kiernan |
| 2nd | Ballinascraw Miss Moneypenny | Haltcliffe Dancer | Ballinascraw Irresistable | J. & S. Lynch |
| 3rd | Bellingham Mary | Ronick Hawk | Bellingham H893 | Frances McKernan |
Class 95. Pedigree Limousin Male calf born in 2018
| | | | | |
| --- | --- | --- | --- | --- |
| Placing | Animal Name | Sire | Dam | Exhibitor |
| 1st | Shiloh Nike | Netherhall Jackpot | Shiloh If Only Et | Hugh Murray |
Class 95. Pedigree Limousin Female Calf born in 2018
| | | | | |
| --- | --- | --- | --- | --- |
| Placing | Animal Name | Sire | Dam | Exhibitor |
| 1st | Ballinascraw New Years Baby | Ampertaine Commander | Ballinascraw HRH | J. & S. Lynch |
Limousin Championship

Champion

Gallaway Moneka ET

Michael Kiernan

Reserve Champion
Cartronfree Mount Everest Et
Gerry & Martin Davis