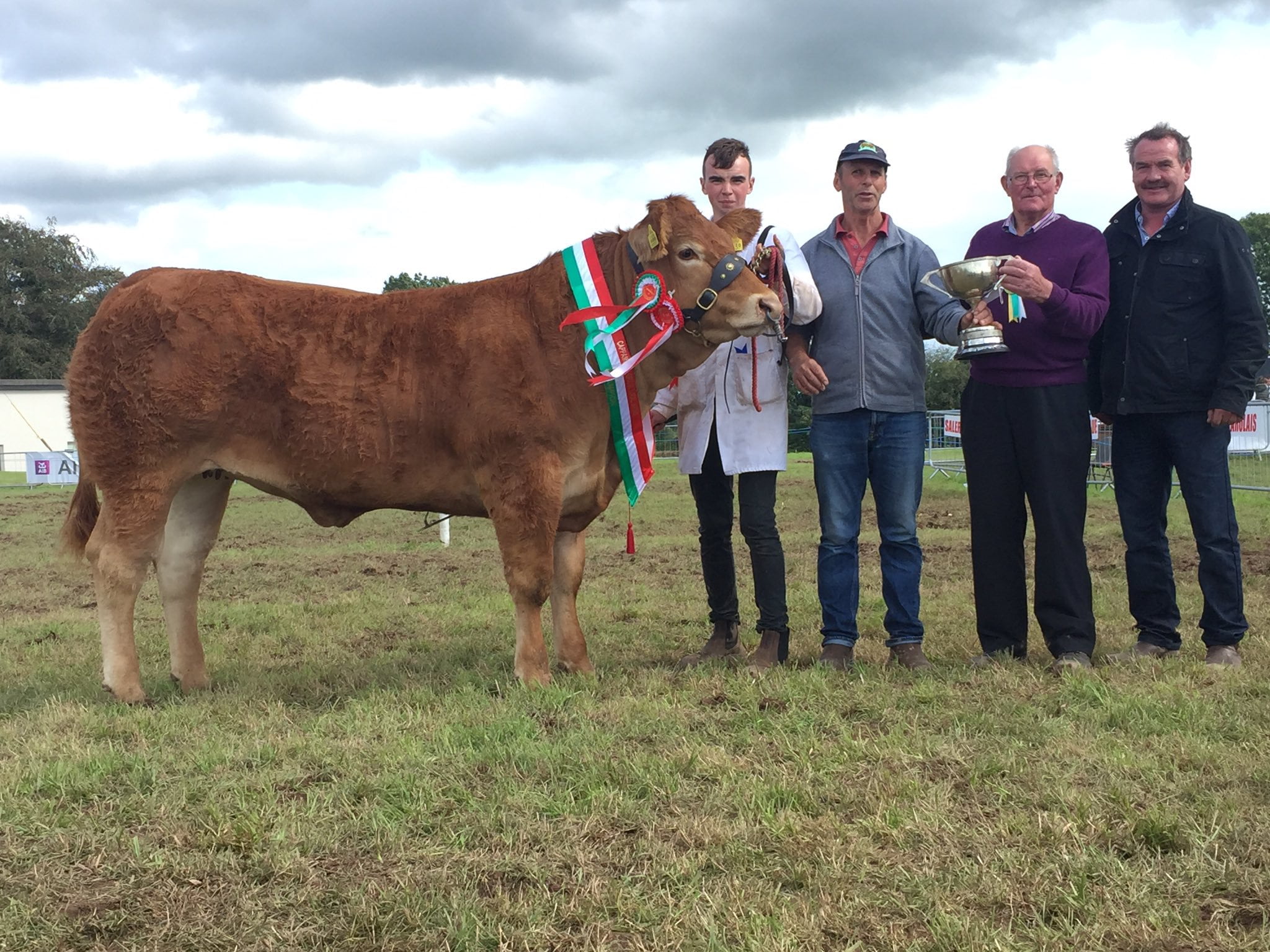 Cappamore show was held on Saturday 17th August in Portnard, Cappamore, Co. Limerick. The show, which is going from strength to strength, was celebrating its 65th anniversary. At the helm of the committee is their dedicated secretary Paddy Ryan. Paddy and his son Sean (MC in the cattle rings) are well known in Limousin circles with their pedigree Sliabh Felim herd (this year a homebred bull Sliabh Felim Mourinho topped the Premier sale when he sold for €11,000).
A wonderful display of cattle across all breeds competed in over eighty classes. The Limousin section was judged by John Jennings of the Glencarr pedigree herd based in Glenamaddy. John was very complementary of the quality of cattle presented to him. Taking the champion title and continuing her winning ways was Millburn Must Have Et from Richard O'Beirne. Must Have stood as Supreme Reserve Overall Champion at the 30th National show (held in Tullamore on the 11th August). This November 2017 born heifer is a daughter of Wilodge Fantastic (VTI) and Richard's outstanding Mas Du Clo cow Millburn Bobby Dazzler. Not stopping there this outstanding heifer was crowned Supreme Champion of Cappamore Show (she was competing against the Champions of all the beef breeds at the show) – a formidable achievement justly deserved by this cracking heifer.
Standing in Reserve was John McInerney's remarkable Neuf daughter Foxhillfarm Naughtybutnice. Born in January 2017, Naughtybutnice has Wilodge Fantastic and Sympa in her back pedigree.
The first class of the day was the Inter Breed Calf class for both male and females calves born on/between 1st Sept. 2018 and 31st Dec. 2018. Judging this keenly contested class was Declan McKenna, Clogher, Co. Tyrone. This class was won by Richard O'Beirne's Millburn Nightingale Et, an embryo daughter of Wilodge Fantastic and Millburn Bobby Dazzler (she is a full sister to show champion Millburn Must Have Et).
Cappamore Show Limousin Champion 2018
| | | | | |
| --- | --- | --- | --- | --- |
| | Name of Animal | Sire | Dam | Exhibitor |
| Champion | Millburn Must Have Et | Wilodge Fantastic | Millburn Bobby Dazzler Et | Richard O'Beirne |
| Reserve Champion | Foxhillfarm Naughtybutnice | Neuf | Foxhillfarm Izzy | John McInerney |
Class 54. Pedigree Limousin Male born on/after 1st Sept. 2018
| | | | | | |
| --- | --- | --- | --- | --- | --- |
| | Name of Animal | Sire | Dam | Exhibitor | |
| 1st | Cornamona Nobel Et | Ampertaine Gigolo | Titchburn Grace | Richard O'Beirne | |
| 2nd | Millburn Nijinsky Et | Wilodge Vantastic | Millburn Bobby Dazzler | Richard O'Beirne | |
| 3rd | Pairclassa Ned | Usse | Kilcloon Ivory | Declan O'Regan | |
| 4th | Pairclassa Neptune | Haltcliffe Gunner | Pairclassa Gabriel | Declan O'Regan | |
| 5th | Inchcol Nidge | Lodge Hamlet | Inchcol Hilda | Patrick Buckley | |
Sponsor: LCFE
Class 55. Pedigree Limousin Female born on/after 1st Sept. 2018
| | | | | |
| --- | --- | --- | --- | --- |
| | Name of Animal | Sire | Dam | Exhibitor |
| 1st | Millburn Nightingale Et | Wilodge Vantastic | Millburn Bobby Dazzler | Richard O'Beirne |
| 2nd | Awaiting results  | | | |
| 3rd | Awaiting results  | | | |
| 4th | Awaiting results  | | | |
Sponsor: Irish Limousin Cattle Society
Class 56. Pedigree Limousin Male born on/after 1st Jan. 2019
| | | | | |
| --- | --- | --- | --- | --- |
| | Name of Animal | Sire | Dam | Exhibitor |
| 1st | Ardnacrusha Podge Et | Sympa | Ardnacrusha Hilarious | Donal Moloney |
| 2nd | Ardnacrusha Peter Pan Et | Sympa | Ardancrusha Hilarious | Donal Moloney |
| 3rd | Carbery Pirate | Doudou | Carbery Felicity 1 | Keith Vickery |
Sponsor: Dovea AI
Class 57. Pedigree Limousin Female born on/after 1st Jan. 2019
| | | | | |
| --- | --- | --- | --- | --- |
| | Name of Animal | Sire | Dam | Exhibitor |
| 1st | Cillcon Penelope Et | Sympa | Ardnacrusha Hilarious | John Moloney |
| 2nd | Ballybrown Polly Et | Gamin | Roundhill Lunanime 1656 | Bobby O'Connell |
| 3rd | Ballybrown Philippa Et | Gamin | Roundhill Lunanime 1656 | Bobby O'Connell |
| 4th | Carbery Palena | Doudou | Carbery Galena | Keith Vickery |
| 5th | Carbery Pandora 2 | Kaprico Eravelle | Carbery Gadala | Ketih Vickery |
Sponsor: FBD
Class 58. Pedigree Limousin Female born on/between 1st Sept. 2017 and 31st August 2018
| | | | | |
| --- | --- | --- | --- | --- |
| | Name of Animal | Sire | Dam | Exhibitor |
| 1st | Millburn Must Have Et | Wilodge Fantastic | Millburn Bobby Dazzler | Richard O'Beirne |
| 2nd | Millburn Notable | Goldies Jackpot | Millburn Bobby Dazzler | Richard O'Beirne |
| 3rd | Ballinrahin Nancy Et | Trueman Jagger | Ampertaine Harmony | Michael Malone |
| 4th | Brookland Nadine | Elite Ice Cream Et | Brookland Fairlady | John & Tom Hickey |
| 5th | Ballinrahin Mary Et | Ampertaine Foreman | Ampertaine Harmony | Michael Malone |
Sponsor: Gerard Mitchell M.C.C,
Class 59. Pedigree Limousin Female born before 31st August 2017
| | | | | |
| --- | --- | --- | --- | --- |
| | Name of Animal | Sire | Dam | Exhibitor |
| 1st | Foxhillfarm Naughtybutnice | Neuf | Foxhillfarm Izzy | John McInerney |
Sponsor: Liam Tolan