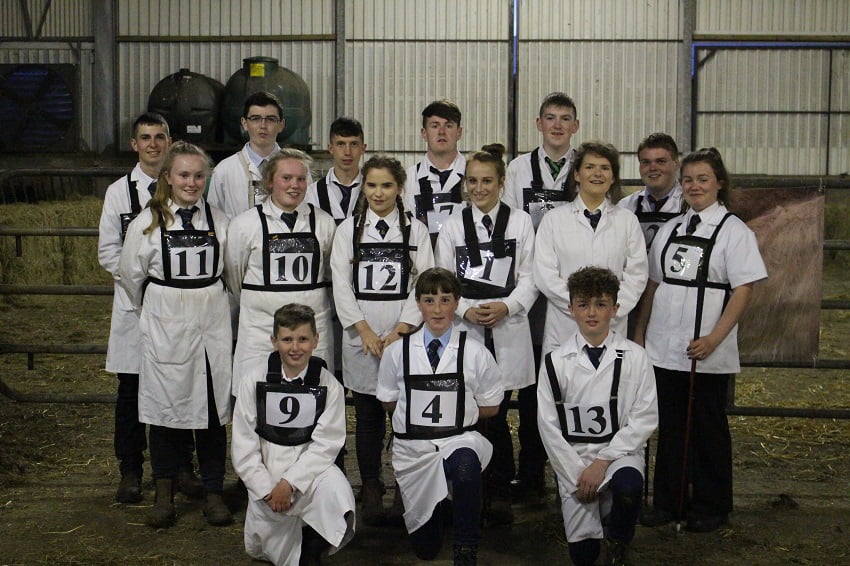 Ardlea/Elite Limousin graciously hosted the National YMA event at Beech Hill Farm, Mountrath, Co. Laois on Thursday evening the 13th of July, 2017. Each of the seven club areas can submit a team to represent their area. This year four club areas held selection events and workshops at which their teams were picked.
The evening began with cattle "judging". The team at Ardlea had two groups – four heifers and four young bulls for the contestants to judge. With the cattle very evenly matched it was a great test of skill for the youngsters to place them in order.
The next phase was "reasoning", individually each competitor was required to go before a panel of three judges and give their reasons as to their placing of the four bulls. The three judges were: Tom Hickey (Brookland Herd), Trevor Masterson (Galbally herd) and Clive Jennings (Brooklands herd) – three judges and breeders of note. Tom Hickey, who won this competition in 2009 and went on to represent Ireland to International success, gave a through insight after the competition into the placings of the cattle and his reasons for his placings. Trevor also won international honours, he was a member of the first team to represent Irish Limousin at an Anglo Irish competition – he and his team-mate James Wycherley claimed the top spot. Clive has judged both at Irish and International level.
The final phase was "showing", at random the competitors were requested to show heifers (consistent with a traditional show) with each required to present to the judges and walk into a line-up. Once this was completed, the youngsters had time to mingle, relax and refresh themselves with the wonderful food and beverages laid on by the team at Ardlea, while the judges and co-ordinators totted up the results.
Paul Sykes announced the results with the Team event going to the South East. This team was made up of Sarah Murray, Sean Maher, Colin Kenny and Niall Jones. In second place was the team from the North East, with the South West in third and the North West in fourth.
Team
1st South East: Sarah Murray, Sean Maher, Colin Kenny, Niall Jones.
2nd North East: Eleanor Reilly, John Smyth, Brodie Molloy, James Russell.
3rd South West: Orla Curtin, Maeve Curtin, Oisin McNamara.
 4th North West: Evan Gunn, Saoirse Oliver, Conor Gunn.
In the individual competition two cups are awarded – one for the senior (16 years and over) category and junior (under 16). The senior cup went to Orla Curtin (SW), second Niall Jones (SE) and third James Russell (NE).
4th placed team – North West
Senior Individual:
In the individual competition two cups are awarded – one for the senior (16 years and over) category and junior (under 16). The senior cup went to Orla Curtin (SW), second Niall Jones (SE) and third James Russell (NE).
1st Orla Curtin
2nd Niall Jones
3rd James Russell
Junior Individual:
The junior cup went to John Smyth (NE), second Evan Gunn (NW) and third Sarah Murray (SE).
1st John Smyth
2nd Evan Gunn
3rd Sarah Murray
An individual competition was also held – with those not on a team on the night competing in stock judging. This was won by Kate Kenny from the South East, with Kate Gormley in second and Catherine Smith in third.
Individual Open:
1st Kate Kenny
2nd Kate Gormley
3rd Catherine Smith
The top individual scores were used to select the team to represent Ireland at the Anglo Irish finals in Dumfries, Scotland on the 5th August.
Irish Team:
Orla Curtin, Niall Jones, John Smyth, Evan Gunn (James Russell, sub).
This event would not have been possible without the effort and dedication of a number of people, we would like to say a huge thank you to everyone at Ardlea. Not for the first time they once again pulled out all the stops to ensure everything was on hand. We are indebted to them for the use of their magnificent facilities, their cattle and for the lovely spread of sandwiches and home baked cakes. Thanks very much to Dan, Ed, Jason, Paddy, Keith and especially Kevin.
The judges Tom, Trevor and Clive, together with the co-ordinators Michael Gunn, Ann Hester and Avril Kinahan ensured the smooth running of the event.
We would like to congratulate all competitors at this event – not everyone could make the team, however, it's not about winning – it's about taking part, learning and making new friends from all over the country. An event of this type is character building – not many adults would be brave enough to put themselves in your shoes! We as a society are very proud of you all.